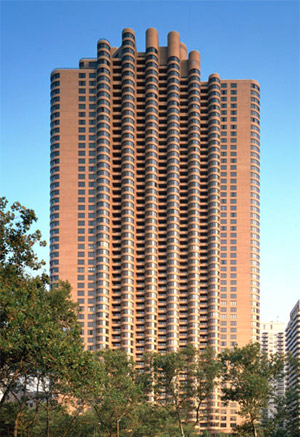 About The Corinthian Condominium
One of the more striking pieces of architecture in Manhattan, The Corinthian is located at 330 East 38th Street and takes up the full block between 37th Street and 38th Street. Rising to 55 stories and packed with an impressive 840 apartments, ranging from studio all the way to four bedrooms, The Corinthian was once New York City's largest apartment building. The distinctive curved architecture means that every single apartment has huge, curved, bay windows that fill the rooms with lots of light. And with fully equipped kitchens with granite and marble countertops, not to mention the baths with marble, and rain showers, The Corinthian is still a cut above the rest.
The 5-star amenities at The Corinthian complement the apartments perfectly. Featuring a 24-hour doorman, a concierge and valet service, and a full underground parking garage, your every need will be met. In terms of fitness, this building has it all, from the fitness center to the indoor swimming pool. The Corinthian also features a steam room and a sauna, not to mention the private running track. Last, but certainly not least, The Corinthian has an outdoor sun deck and many of the apartments have private balconies. From the prime location in Midtown Manhattan to the astounding list of amenities and features, The Centurion boasts a little bit of everything for everybody.
Interested in Buying or Renting in The Corinthian Condominium?
There are currently 17 units for sale and 9 units for rent in the building. Please click on the links below to get more information about the availabilities in The Corinthian Condominium and we will connect you with a buyer's agent.